Information about Vinhomes Ocean Park in 2022 - Latest news
The Megacity Vinhomes Ocean Park is located in Gia Lam - this is the southeastern gateway of Hanoi. Vinhomes Ocean Park is a metropolitan city with all facilities including a large BBQ grill park with a large area of ​​green trees, along with an outdoor Gym and Park system provided all the needs of the whole family. Besides, Vinhomes Ocean Park also owns the unique saltwater lake in Hanoi, along with a large area of ​​center lakes spread over the whole urban area. Vinhomes Ocean Park is considered as "Singapore Island" in the heart of Hanoi. Tthe project owns great facilities and landscapes of a large scale which has been never appeared in anywhere else.
+ Project Name: Vinhomes Ocean Park
+ Area: ~ 420 ha
+ Investor: Vingroup
+ Location: Trau Quy, Gia Lam, Hanoi.
+ 4 low-rise subdivisions: Ngoc Trai, Sao Bien, San Ho and Hai Au.
+ 4 high-rise subdivisions: The Park, The Sea, The River and The Lake.
+ Park area: ~ 62 ha
+ Area of ​​sea, salt water lake: 6.1 ha
+ Area of ​​the center lake: 24.5 ha
+ Construction density: ~ 19.2%
+ Type of products: 66 apartment buildings with more than 2300 villas, terrace, shop-house and a large commercial center and associated services.
House, Villa, Apartment for rent/sale in Vinhomes Ocean Park
Vinhomes Ocean Park apartment building was built based on ideas from the most beautiful coastal cities in the world such as Singapore and New York City and Sydney with the bold resort concept of "Bring Sea Lake to the City". Vinhomes Ocean Park converges all elements to become a modern and synchronized "City" with full 3 high-class real estate products of Vingroup, namely Vinhomes Sapphire, Vinhomes Ruby and Vinhomes Diamond.
Currently Vinhomes Ocean Park is opening sale of subdivisions:
+ Subdivision: Sapphire 1,
+ Subdivision: Sapphire 2,
+ Subdivision: Ruby,
+ Subdivision: Diamond
As a civilized and self-contained apartment complex with full of utilities, the apartments for sale in Vinhomes Ocean Park are smartly designed to optimize the area and utilities. Each apartment has many openings such as windows and loggia, ensuring the light and natural air filling all small spaces around the apartment.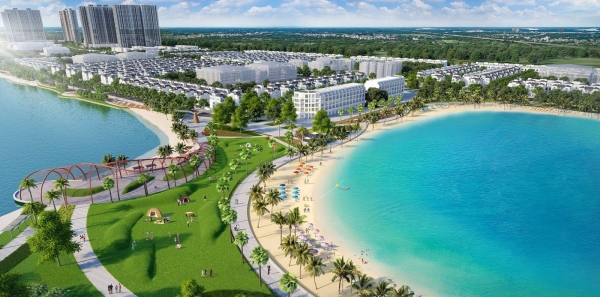 Apartments from 1 to 2 bedrooms are designed with an additional space that can be used as a small bedroom or a study room or a workroom or a church room or a small warehouse. Vinhomes Ocean Park has 4 types of apartment as follows: Studio apartment with area from 26sqm to 38sqm; 1 bedroom apartment with area from 43sqm to 48 sqm; 2 bedroom apartment with area from 55sqm to 66sqm and 3-bedroom apartments with areas from 75sqm to 80sqm.
Each apartment will be designed sophisticatedly, luxuriously, modernly and with every detail, satisfying the most stringent requirements of the owner of an office or a house, both elegant and convenient, both luxurious and still show the level of ownership.
Location of Vinhomes Ocean Park apartments
Vinhomes Ocean Park is located in Gia Lam - a very fast development place of infrastructure and transportation systems with huge key projects which have been and will be implemented in recent years. The project is located in Gia Lam District and the intersection of Kieu Ky, Da Ton, and Duong Xa Communes and part of Chau Quy town.
Especially, in the coming time, the city will build 4 new bridges spanning the Red River and Duong River, namely Tu Lien Bridge and Duong 2 Bridge and Tran Hung Dao Bridge and Giang Bien Bridge, this golden position will become the center of
new economic and political and cultural center in line with the development orientation to the Southeast of the Capital.
According to the approved 1/500 master plan, the megacities Vinhomes Ocean Park Gia Lam are bordered as follows:
+ Northwest: adjacent to 40m highway (Dong Du - Duong Xa route).
+ Northeast: adjacent to 40m road.
+ Southeast: adjacent to Kieu Ky residential area.
+ Southwest: adjacent to Highway 5B, Hanoi - Hai Phong highway.
From Vinhomes Ocean Park, residents can easily move into the inner city as well as extremely convenient when moving to the Northern provinces. This is the advantage of the location of Vinhomes Ocean Park that not every metropolis has.
THE PARK
The Park is the most dynamic high-rise subdivision at Vinhomes Ocean Park because it is located at the gateway of the entire Vinhomes Ocean Park project. With the location next to the river, the subdivision will have a large green space. Not only that, this is the residential area with the lowest population density, which owns the most utilities with the most modern 45-storey office tower.
+ Park Park 11
PARK 11 is adjacent to the main road with a width of 32m (this road both sidewalks 13m and the median is 45m). This is one of the two main roads of the project.
For customers who buy to stay, Park 11 is a wise choice because the building is located on the busiest street area of ​​the project with 2-storey podiums to satisfy all needs of shopping, service... of residents. Not only that, Park 11 also has the advantages of sports facilities such as basketball courts, tennis courts, volleyball courts ... and the biggest highlight is the internal swimming pool between Park 12 and Park 15. From Park 11, residents can easily connect to the best facilities of the project such as: 24.5 hectares of lake or 6.1 hectares of saltwater Lake, as well as VinUni University or moving to VinCom shopping center which is quite close as well.
Investment customers will often be interested in the following three factors: Return on capital, High liquidity and Potential price appreciation. Park 11 will be one of the buildings having a big advantage in terms of stable investment for rent because it is close to VinUni University. With more than ten faculties, the number of students at home and abroad is extremely large, plus the number of lecturers up to thousands of people, the best choice for them is to rent an apartment for peace of mind at work or study.
In addition, the building is located at the center of the project, with convenient connectivity along with a lot of accompanying utilities, making park 11 always one of the reasons you should own an apartment in the building.
Please keep in mind that "A good real estate product, the first priority is the position". Park 11 is one of the courts which have this luck. Park 11 is located at the center of the project, which is a core real estate product but has a reasonable price for customers, so the potential for an increase in the price of apartments in Park 11 will be very strong in the next few years.
+ Park Park 19
Markets: Park 19 is one of the buildings closest to the center of Vinhomes Ocean Park. This is the core area for the economic and educational center of the whole project. Park 19 is close to the school system from preschool to high school of Vinschool system and VinUni University. The building promises to be the busiest trading gateway in The Park.
Rivers: Park 19 owns the most open view, overlooking to the river, making homeowners always enjoy the cool breeze even on the hot summer days.
Roads: Park 19 is adjacent to the main road with the width of 52m. This is the most "backbone route" of the project. From Park 19, the residents easily move into the central lake area of ​​24.5 hectares and salt water lake 6.1 hectares as well as easily move to Highway 05.With the following advantages, Park 19 will surely be the fastest and most chosen building for customers:
- Park 19 owns Central and prime location, although located on the main road but the building is not adjacent to the road, residents are assured that their apartment will not be dusty or noisy. From park 19, residents can easily move into the central lake or saltwater lake as well as to other cities and provinces through Highway 05.
- Park 19 is one of the few buildings with river views.
- Park 19 is located near Vins school system from kindergartens to University.
- In addition, the price of park 19 is always the best with the most attractive policies from the investor.
- The plus point of park 19 is its high profitability if purchased for investment or lease. When looking at domestic or overseas projects, it is easy to see that buildings close to major universities or large office areas have great rental potential. Potential customers who will hire at park 19 will be foreign lecturers, students of Vin University or other nearby office staff.
Choose Vinhomes Ocean Park because: "Easy to buy - Easy to sell - Easy to rent"
- Easy to buy: Park 19 has the best price and the most attractive sales policy compared to other buildings of the project.
- Easy to sell: Park 19 will bring high profitability. The building has great value-added real estate due to its beautiful and prime location and the first sale.
- Easy to rent: Park 19 will be the center of Economics and Education of The Park. Park 19 is considered as the convergence of knowledge of Vinhomes Ocean Park by the building close to the school system from preschool to University.
Customers can also choose apartments with a variety of views:
- Southwest direction overlooking the internal campus.
- Northwestern view overlooking the River and Vinschool.
- Northeast direction overlooking Vinschool and the landscape of the garden and the vast central lake.
- Southeast looking at the interior of VinUni University.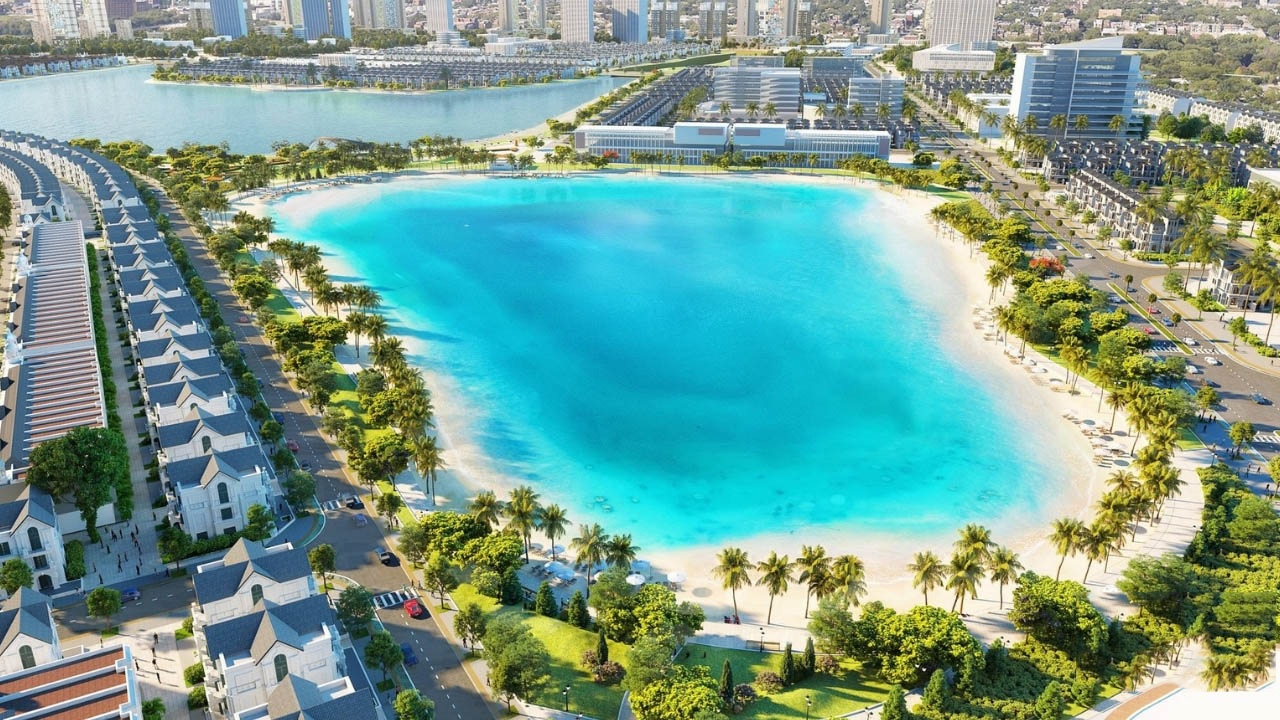 Financial solutions when buying apartments in Vinhomes Ocean Park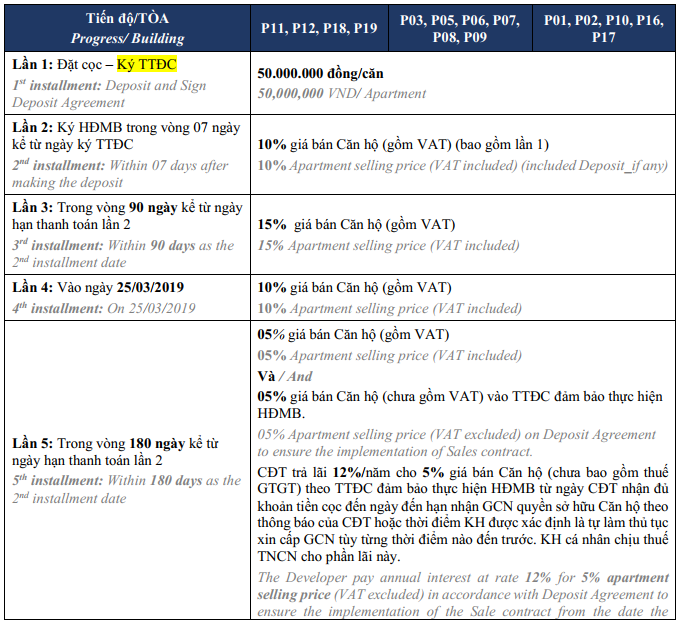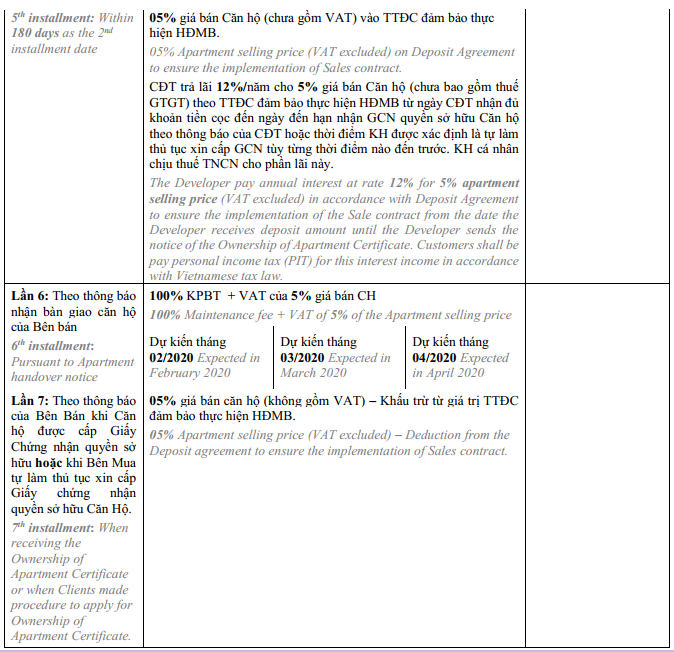 Progress for regular payment customers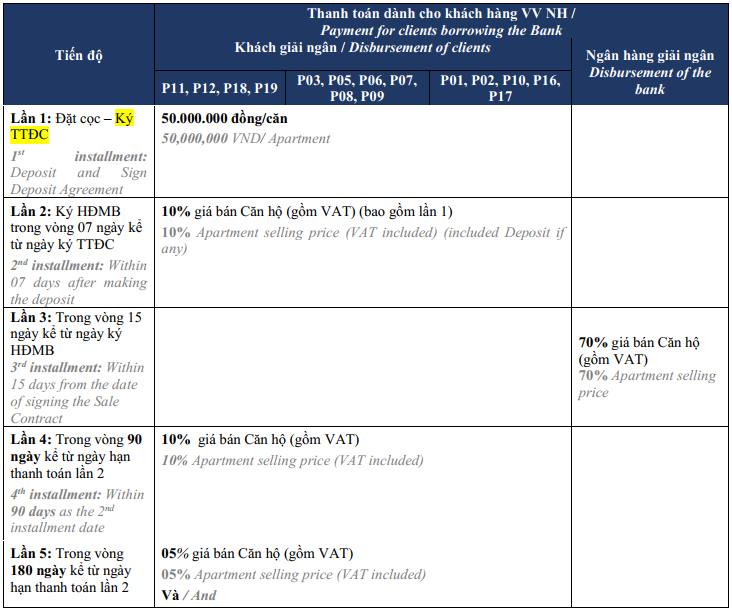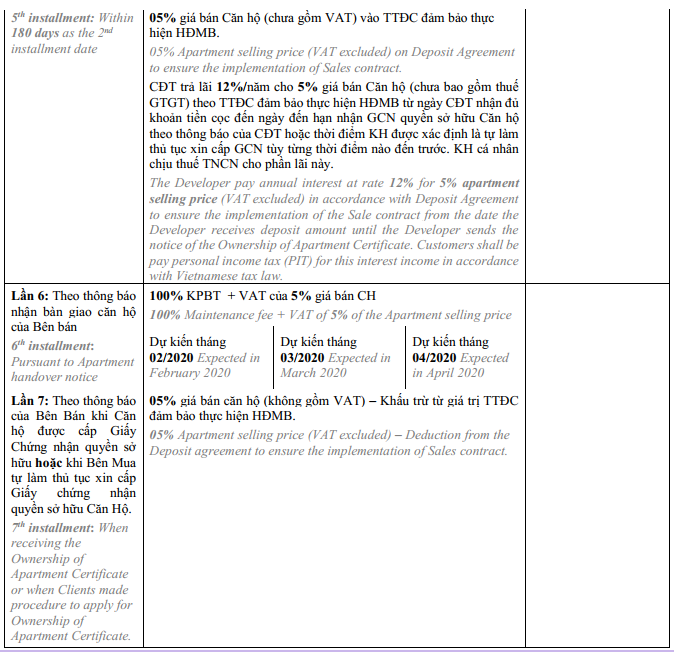 Progress for bank loan customers
Master plan of Vinhomes Ocean Park project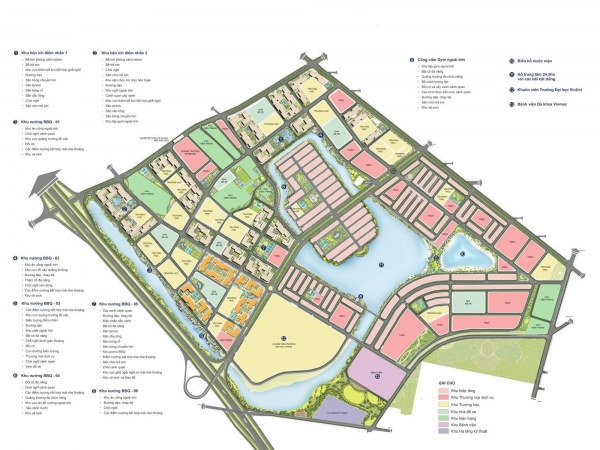 Amazing utilities in Vinhomes Ocean Park
Like the other projects of VinGroup such as Royal City, Times City, Vinhomes Central Park, Vinhomes Riverside or Vinhomes Metropolis ..., Vinhomes Ocean Park also owns a full and outstanding utility system, which are planned according to world-class standards, bringing the ideal life for residents here. But Vinhomes Ocean Park is known as, for the first time created unique utilities that no project has ever had, which is 6.1 hectares of artificial saltwater lake, an outdoor sports park with thousands of exercise machines, or BBQ BBQ park, along with countless outdoor swimming pools and relaxing huts spread throughout the project.
+ The first artificial lake in Vietnam
The first point cannot fail to mention that Vinhomes Ocean Park owns a 6.1-hectare lake, a miniature ocean that has been created in the heart of high-rise buildings as well as low-rise subdivisions. This is an unique feature of Vinhomes Ocean Park which makes it consider as a "small Singapore". For artificial saltwater beach, Vinhomes Ocean Park also brings a central air conditioning lake with an area of 24.5 hectares, 4 times larger than the area of ​​artificial sea lakes, embracing the whole project. This harmonious lake is surrounded by white sand coastal and green coconut palms, giving residents the feeling of being on romantic beaches where they can walk or bike or simply spending precious time with the one they love the most.
+ Vin University and Vinschool inter-school system
Vin University is built on an area of ​​23 hectares with 5 main areas: the main building, student dormitory, sports hall, sports stands and technical-auxiliary area. With the expectation that VinUni will be a Vietnamese non-profit private university built according to international standards, VinGroup has invited prestigious architects from multinational corporations such as AECOM, HBA to develop and then the whole university is appraised by strategic partners, Cornell University (Cornell) and University of Pennsylvania (Penn).
VinUni University's facilities system will meet the 5-star hotel standards of the world's leading accreditation organization - Quacquarelli Symonds. The difference of VinUni is that all the landscape and interior design of the school takes learners to the center to optimize. The school will start the first course in August 2020 and VinGroup will turn VinUni into one of the top universities in Vietnam and the world.
Not only focusing on the University, the inter-school education system from preschool to high school is Vingroup's special interest and built according to Vietnamese educational standards but with high quality and compliance with the BIS/BVIS system according to British educational standards recognized around the world.
Vinschool owns a team of dedicated and talented teachers with the determination to nurture the country's preschools. Vinschool with standard teaching methods from developed countries with modern and safe school equipment will help students develop more comprehensively. Surely parents will always feel secure when sending their children to study at Vínchool.
+

Outdoor Gym park - the system of multi-sport fields
With over 700 diverse exercise machines at the concentrated outdoor gym and internal parks, VINHOMES OCEAN PARK has met the needs of health training and physical improvement of residents of all ages. The park also has a multifunctional square with walking paths, jogging and children's playgrounds, interspersed with multi-function lawns, grass hills and greenery. For busy young people, who have little time to practice, it only takes a few minutes to enlist the practice and residents can maintain a healthy body, reducing the risk of diseases related to obesity and spine.
+ BBQ Park
In other project, only in luxurious villas, the residents can enjoy unique picnic facilities such as an outdoor BBQ garden. But now, prospective residents at Vinhomes Ocean Park have access to and experience this garden at the large BBQ grill parks with over 100 grill points covering the project.
With the scale of more than 100 unique picnic spots, the future residents of Vinhomes Ocean Park will have the ideal venue for picnics without having to go far but at 6 great outdoor BBQ parks. The residents can enjoy a green, fresh and comfortable picnic space, without having to drive for hours which is only a few steps from home. And there is no need to consider choosing a time, because any time you want is able to "fire" up.
At Vinhomes Ocean Park, 6 BBQ parks are planned in beautiful locations, in harmony with green space such as next to the large lakes in the center or the rivers and green parks. Alternately in the BBQ parks are other utility landscapes such as the square, water landscape, huts, paths…
+ Shopping center - food and entertainment
With the busy commercial center system, Vincom Mega Mall, Vinmart supermarket ... Vinhomes Ocean Park project has ensured all the essential needs of residents. Vincom Mega Mall is a convergence of famous brands, which will satisfy the class and noble residents. Besides entertainment area, a modern cinema will help residents have moments of comfort and stress relief after a tiring working day.
Vinmart is a place that provides residents with high-class comfort and quality and safe meals with clean brands from VinGroup, VinEco. In addition, this is also an ideal place to attract friends and family or Guests of residents come to enjoy and enjoy shopping.
+

Vinmec International Hospital
Vinmec International General Hospital was established with the motto of providing comprehensive health care for all families as well as relatives of residents, so that the lives of residents can be more complete. As one of the famous international hospitals in Vietnam, Vinmec International Hospital brings together many leading doctors and medical experts in the country and the world. Together with human resources, Vinmec International Hospital is invested synchronously in infrastructure and the most modern medical equipment.
With that foundation, Vinmec International Hospital is increasingly being concerned and selected by residents and residents as a place to take care of their health and for their loved ones. And with all the achiements, Vinmec has been awarded many noble titles by central agencies.
The information above is the latest news about Vinhomes Ocean Park project that Tan Long wants to provide to the customers. With the preeminent features and huge potential for price appreciation, this project is definitely a super investment product nowadays. Contact us through this number: 0986 720 720
See more: Apartments for sale in Vinhomes Ocean Park
List of apartments for Sales
List of apartments for Rent